Cindy Lundorff - 1956
Cindy and Ken

Cindy Lundorff was born Dec 20 1956. She graduated from High School in Cloquet Mn. Attended University in Duluth Mn. She Married Russ Brenna and they had 2 daughters.

Cindy and Russ are now divorced and Cindy is living together with Ken. Ken and Cindy have been living at the same address in Richmond Minnesota since October 2004.

Cindy tells the following story (April 2010).:
I was born in Sandstone MN and lived there until I was about four years old. I remember going to town with my dad, Norm, and it would take us forever to get from one end of the block to another!
Everyone knew my dad so we had to stop often to talk. I stood there bored, just waiting for my dad while he laughed and talked. Finally he would finish, only to find another willing person on the sidewalk to greet.

I remember as a kid snooping in my grandpa's old wooden houseboat, that was in the shed across the street from the house that he built in 1956. The year I was born. I was told that my grandpa built that boat. At the time it was no big deal, but now I wonder about that old boat and where it lives.

I moved to Cloquet because my dad got a job there with the telephone company when I was about four years old. He collected old wooden crank telephones that he took out of people's homes as he replaced them with "new" dial phones. One wall in the basement was covered with old phones that I played with from time to time. I believe my dad donated some of them to a museum recently. My Danish heritage continues as I always remember "dancing" around the Christmas tree. The whole family would gather at my grandpa's house on Christmas Eve, hold hands and sing Christmas songs. At one point we had to have two rings of people since the family was so big with aunts, uncles, and cousins. To this day (I am now 53 year old) when my family gathers for Christmas I set my tree in the middle of the room and keep the tradition going. As I was growing up I remember taking trips in the camper. We had a camper that fit over the truck and all five of us would sleep and eat in that camper for a week. One trip we went to Washington State to visit my aunt Laura. I was fascinated by her skill and creativity in pottery and I remember making a clay pot. It was crooked and rather ugly but she glazed it and mailed it to me in MN once we returned home. Growing up in Cloquet was wonderful. My mom and Dad worked and were great parents. They were always supportive and loving. My dad never yelled at me and the one time he did, it was a mistake! I came home from school one day and he yelled, "Get in your room!" I was astonished at this since he never got mad at me and I went to my room at sat on my bed wondering what I had done wrong. Later on my dad came in and said, "I thought I had asked you to move the wood in the back yard but I guess I forgot. I'm sorry I yelled at you." Soon all was better and I went on my happy way. My high school days were normal but fun. Looking back now I know I could have done better in school but I just didn't have the drive. I got a few A's, some B's, a few C's and an occasional D in math.

I got married when I was nineteen to Russ Brenna and we moved to St. Cloud. Russ (Bimbo) got a job at the St. Cloud prison. I had two daughters with no hesitating. I had no interest in a career (I attended college for one year) and was only longing to be a mother. Stacy was born a month early and weighed six pounds. She sucked her two fingers until spit ran down to her elbow! She was the clown of the family but worried about everything at the same time. Amy was born eleven months later at two months early. She was premature and her lungs were not developed so she was sent to a hospital in Minneapolis. It hurt as her tiny, frail body was whisked off in an ambulance. She was in Minneapolis for a month and then back to St. Cloud so I could bring her home another month later when she weighed six pounds. She turned out fine and was always rather quiet and and a rule follower. It was a difficult time in the early days but Bimbo and I made it through and were married for nineteen years. We were divorced in 2000.

I met Ken in 2004. We live in Richmond Mn. Ken is steady and patient. He has adapted quite well to my family. (Although I had to prep him for singing around the tree when he spent his first Christmas with me and my family.) I gradually built up a career (without a college degree) and now work in the social work filed for Goodwill Easter Seals where I work with youth to train them in life and in jobs. The young adults I work with put me in my place every day, and make me thankful for every bit of good health and fortune and for me and my family.

Stacy and Amy are now married with children of their own, and there is never a dull moment with those four shining stars.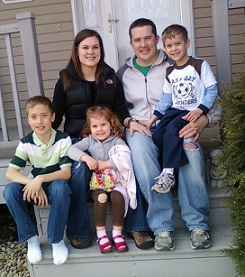 Amy and Tom lives in St. Joseph, which is about 20 miles away. Cooper is a wise adult at age nine. I took him to Florida when he was eight years old. (It is a goal of mine to take all of my grandchildren to see the ocean. Three left to go!)

Jackson is next in line with a little stubborn streak that will get him far in life!

Brynn is almost four with a passion for clothes that she changes at least four times a day!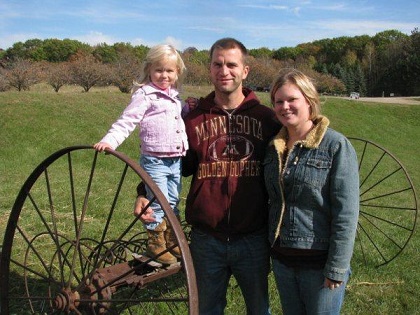 Stacy and Greg have Faith, who is the spitting image of Stacy. She clings to her mother (Just like Stacy did to me...) with white messy hair and squinty beautiful little eyes. Faith is so smart and funny. They live on a farm only eight miles from Ken and I.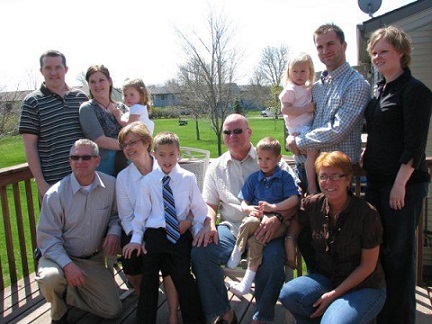 I am so proud of my girls and their beautiful families. My folks are still getting around great these days, and I have planned some trips (Puerto Vallarta and Punta Cana) that they have gone on with Ken and I in the last few years.


I am so thankful for my parents, and the wisdom and humor that has followed them all these years.